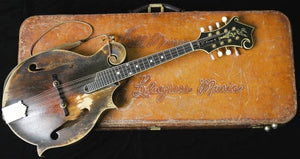 Bill Monroe Mandolin with Lauren Price Napier
This class will meet online - an invitation to a recurring Zoom meeting will be included in the orientation email sent upon checkout. 
This class will examine Bill Monroe's dynamic playing style through demonstrations and break-downs of his stylistic techniques and tunes. The instructor will offer specific techniques, tips, and tricks to give you the tools to include Monroe's style in your playing. We will choose a few different topics/themes to work on and a handful of tunes and breaks to demonstrate stylistic intricacies. Students will complete the class with a better understanding of the mandolin style Bill Monroe pioneered and a few songs and tunes to bring to jams!
Students will learn:
Tremolo Techniques

Tone Production For Chop Chords

A Review of Transposition Skills using Closed Chord Shapes

Essential Monroe Licks

A selection of Classic Monroe Tunes & Songs
Prerequisites:
The class is appropriate for students playing at intermediate/advanced levels who are comfortable playing more complex melodies at 100 bpm, have experience learning tunes by ear, and are familiar with closed chords and common fingering positions.
Students should have the following:
Mandolin (of course)

Picks

Tuner – please be in tune before the start of the lesson if possible